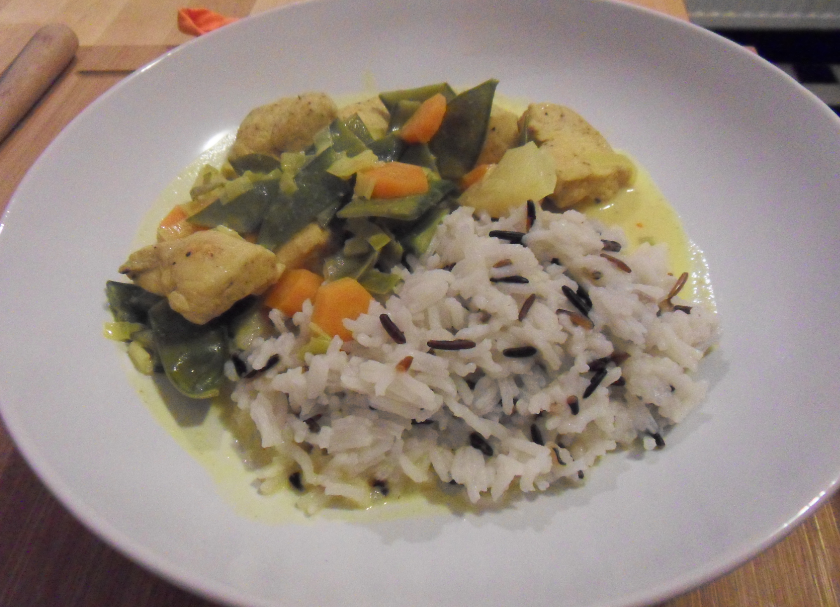 Canned pineapple and sporty music
This was probably my first, own "recipe": There is nothing spectacular or outstanding about it, not even garlic or ginger, no roasted mustard or coriander seeds, no coconut milk, just some curry powder. But maybe it is this simplicity, that makes it something soothing and comforting. Those days, curry powder had been very on-trend and for some reason there was always a bottle of sherry in the house.
A simple curry mix from the supermarket is part of it. But sherry and canned pineapple? Well, those were the 90s. We wore Marlene pants and oversized blazers in the office and slim, short tube dresses at parties.
The pop culture of the 90s was sporty. Not only the fashion was characterized by sportswear, which was combined with everyday accessories for appropriate outfits. Pop music was dominated by serious sport as well: anyone at the age from 12 to 16 years, who was able to reasonably co-ordinating his body moves , was casted. Boygroups caused hysterical states of emergency amongst their dental braced girlie target group. Whether New Kids on the Block, Backstreet Boys, Take That or N'sync - all put together according to the same structure model and very successful.
However, one of the commercially most successful groups of the decade was composed of the highly talented women of En Vogue. (Sorry, guys!)
---
Free your mind and the rest will follow
Be colour blind, don't be so shallow
---
Three other women with excellent voices and vocal technique delivered pleasing chart hits: Whitney Houston, Celine Dion and Mariah Carey. On the other hand, there were rowdys like Limp Bizkit and Slipnot, who tried to make something like Death Metal socially acceptable.
The grunge of Nirvana and Pearl Jam boomed out of the radio. Where otherwhise was too much "Wind of Change" or "Mambo No. 5", too much Ace of Base, too little Salt 'n' Peppa and fortunately often enough Queen. We learned Italian to sing along with "Se Bastasse Una Canzone" and tried Madonna's "Vogue" (with iffy results).
Rythm was a dancer all night long with "Return of the Mack", "No Diggity," and "You Lied to Me."
But even then life was not all party. For bleak times, moments of crisis and Weltschmerz we needed comfort food with chicken, curry, pineapple and cream.
For that we need (just trust me!):
400 g chicken breast, cut into bite-sized pieces and seasoned with salt, pepper and 2 tsp curry
1 leek, cut into rings
2 to 3 carrots, sliced
1 canned pineapple, 235 g, drained 140 g - usually 4 slices; cut the slices into pieces, keep the juice
optional: 100 g mangetout, cut into 2 or 3 pieces each
Curry powder
Chilli flakes or optinal fresh chili, to taste
optional: turmeric
Salt, pepper, oil
4 cl Sherry
200 ml cream
Serve with rice
Preparation:
Once the rice is boiling in salted water (1 coffee mug of rice, 2 cups of water), let a pan get hot.
First stir-fry leeks, carrots and mangetouts, if used, and lightly salt. Remove from the pan and roast the pieces of meat, thoroughly cooking. This should take 10 minutes on not too high heet. Add vegetables again. Deglaze pan contents with 4 cl sherry and let the liquid reduce. Then pour in pineapple juice and cream and bring to a boil. Add chilli flakes, another 2 tbsp curry powder and, if used, 1 tsp turmeric. Add pineapple pieces and let everything simmer for 3 to 5 minutes. Taste, it usually needs some more salt now.
The rice is usually finished at the same time.
Enjoy!