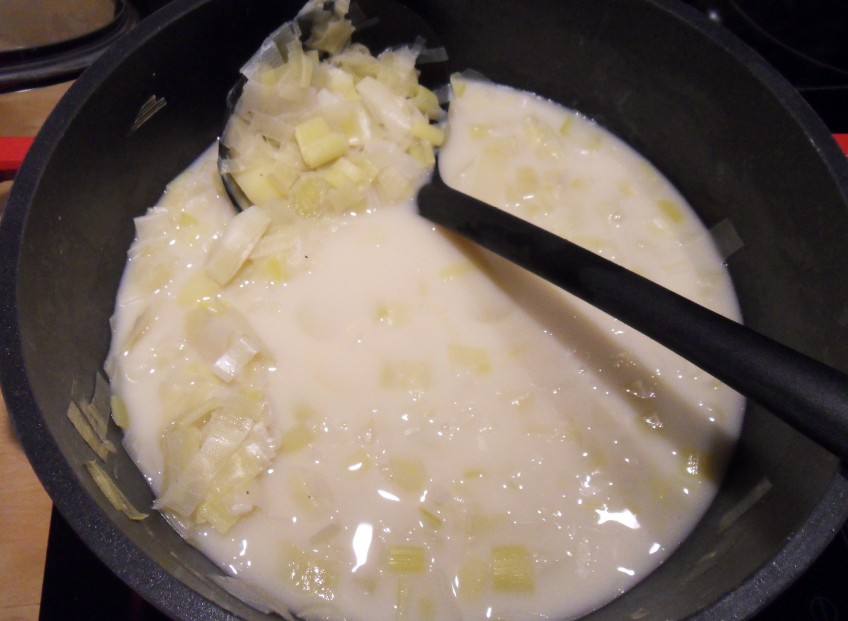 The origin of this recipe is a horrible cookbook from the seventies. It offered recipes like "Pea Soup Indian Style"- made from canned peas, curry powder and stock cubes ... Did we actually eat THAT those days? But two cooking ideas from that book remain part of my repertoire: a salmon quiche and this leek soup.
This recipe was advertised as "Finnish Leek Soup" (no idea at all, if this is a dish from Finland) and "full dinner for those wanting to keep their slim figure". There were no additional spices, except salt and pepper. But the good housewife should serve the soup sprinkeled with "washed and chopped parsley". Alright.
For the love of leek I adapted the whole thing for, well, more "nowadays". What works today as it did then is the ratio of potatoes, leeks and liquids. The original provided "1 1/4 litres broth of cubes".
Bouillon cubes (preferably organic) are fine. They are a good condiment to complete the, let's say, overall impression of soups and sauces. But I do not want a soup or a risotto to taste only like that concentrated salty seasoning of several bouillon cubes.
Another technique which is a kitchen law today as it has always been: do not stir egg yolks directly into the boiling soup. They would coagulate creating an unpleasant mess.
For the leek stew I use:
3 medium potatoes, peeled and diced
6 leeks, cut into rings
2 egg yolks
a dash of cream
1 1/4 L of liquid - I take:
400 ml concentrated vegetable stock
600 ml of water
1/4 L dry white wine
Bouquet garni / Spice ball filled with:
1 bay leaf
1 clove
15 black peppercorns, a bit cracked
1 pinch of chilli flakes
1 piece of lemon peel
3 stems of parsley
Cook the potato cubes in the lightly salted broth-water-wine mixture for about 10 minutes, then add the leek. Cook for another 10 minutes. Check potatoes - if they are not soft yet, cook a little longer.
When the potatoes are cooked, take the pot from the hot plate and remove the spice ball. Put some of the soup in a small bowl.
First, mix the two egg yolks in another bowl or cup with 1 tbsp. of hot soup; repeat this 2, 3 times. Add the mixture to the small soup bowl and stir. Then stir in a dash of cream. Pour this mixture back into the big soup pot. Just heat up again, do not cook anymore. This thickens the soup, but in a very light way.
Season with salt, pepper and grated nutmeg.
Of course, parsley goes very well with it. But also delicious is a mixture of chopped parsley and dill.
Enjoy!
Leftovers:
Can be frozen well. Otherwise, keeps in the fridge for up to three days. If I have a few cherry tomatoes left, I cut them into the soup before reheating - they add a colorful contrast as well as an extra level of taste.