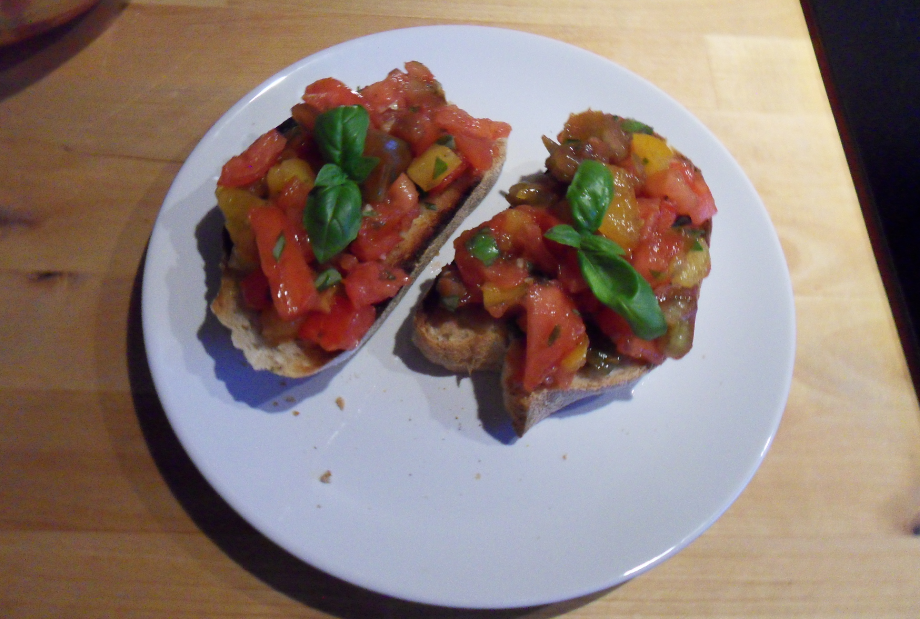 This extraordinary summer is too hot and too dry. We bear the burden of extreme heat lasting forever. The drought endangers crops and livelihoods. Forests burn. The flowers on my balcony and my herbs fight for survival, if I do not water them only for a day.
But this summer spoils us as well: with ripe and aromatic tomatoes in all varieties. Come winter, we will miss their taste and we will look back at the summer of the century, wistfully.
We will forget what it is like trying to keep a clear head at 38 degrees Celcius outside in an office without air-condition and a constant 34 degrees room temperature. (Note: you just cannot...)
We will have forgotten, soon, how we tried to get even less clothes on and still remain presentable. Instead, we will revel in the memories of ripe peaches, the juiciest nectarines, thick cucumbers and these tomatoes.
Let's make some crostini with it - as often as still possible, as long, as this summer lasts. Or make the simplest salad, which relies on the intense taste of the tomatoes we use for it. All of this will never again taste like it did this summer with these tomatoes.
Crostini
I prefer ciabatta, baguette or rye baguette for this. But it should not be fresh. In a lot of bakeries you get bread from the day before. That is what I am looking for.
I cut the slices just as thick to fit into the toaster. After roasting, with them still warm, I first rub the slices with fresh garlic - the oil is absorbed immediately. Then the slices are drizzled with olive oil.
The tomatoes are chopped and mixed with salt, pepper and chopped basil. A pinch of sugar balances the acids. If you like, add a little bit of balsamic vingar. Heap up all that splendor on to the bread slices.
Typically, crostini are served as an appetizer. I often have them as part of a dinner to accompany small, pan rosted sausages.
Enjoy!
Variations:
Roast the bread slices in olive oil and butter instead of toasting and then rub with garlic. Offer each guest at your table at least three napkins...
Or instead of basil: rub the slices of bread with garlic and then spread them with a mixture of olive oil and Zatar, which you mixed ahead.
Season the chopped tomatoes with chilli flakes and a little lemon juice.
A very different flavor: For each slice of bread you want to serve, add half a teaspoon well dried and chopped capers and one chopped anchovy to the tomatoes.