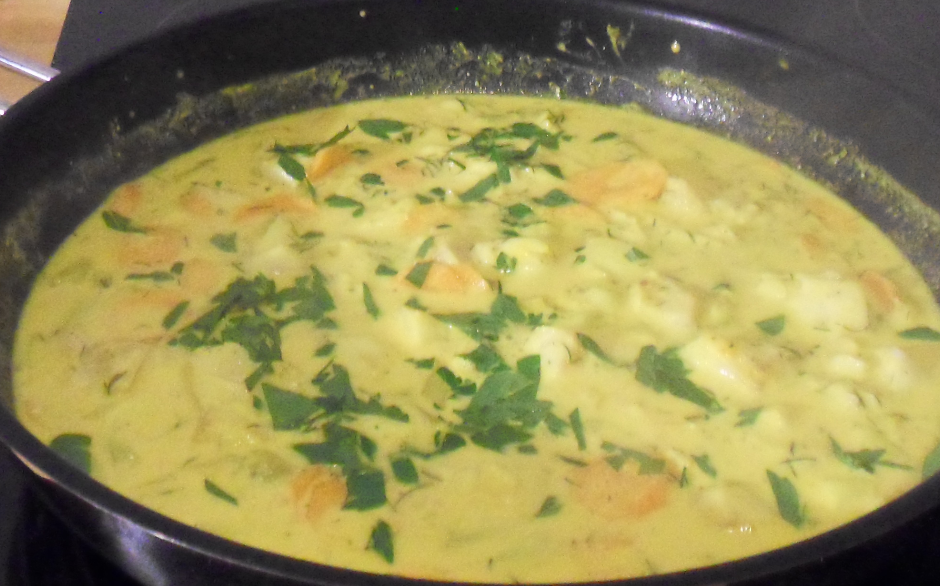 Vegetables and fish fillet in a creamy sauce, spiced with lemon, turmeric and dill
I like to make this with cod, but any firm filet from a sustainable origin works just as good. Alternatively, it works very well with tofu or diced aubergine. Then the dices would be seared with the other ingredients. There is no need to sear the fish, though. It cooks in the delicious yellow sauce without any fuss.
Ingredients (serving 2):
300 g cod fillet, cut into pieces, lightly salted and peppered
1 large carrot, sliced in fine slices
1 bunch of spring onions, cut into small pieces
1 small piece of ginger, chopped
1 lemon, zest and juice
Chilli flakes to taste
100 ml fish stock
100 ml white wine
150 g of creme fraiche
1 handful of fresh dill, roughly chopped
1 handful of fresh parsley, coarsely chopped (optional)
1 heaped tablespoon turmeric
Olive oil
Salt, pepper
Preparation:
Heat some olive oil an a pan and sear the carrots, onions and ginger with the lemon zest and chili flakes until the carrot slices are slightly softer. Add the lemon juice, fish stock and white wine to the pan and bring to the boil. Let reduce to about one third of the liquid. Add creme fraiche, turmeric, dill and parsley (if used) and bring to a boil, then reduce the heat. Add the fish to the sauce and let it cook at a low temperature for five minutes.
Serve with rice, couscous or even better: eat directly out of the pan with fresh bread.
Enjoy!