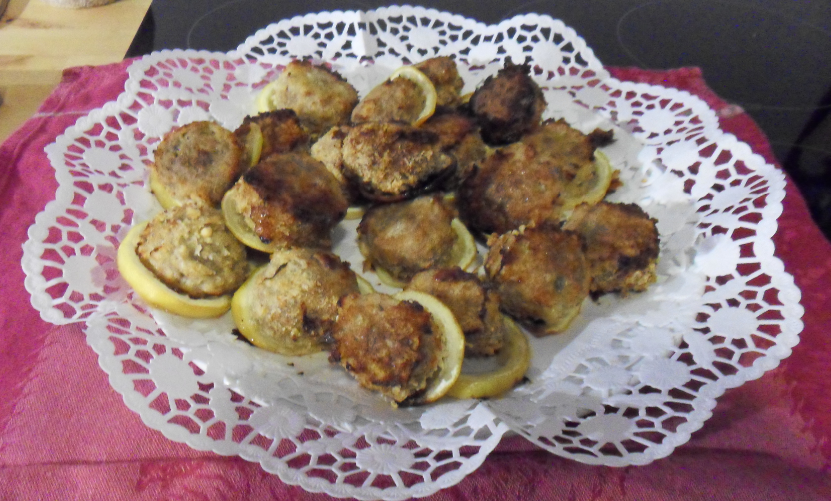 Lemony little meatballs from southern Italy - Polpette al Limone
I love lemons! I could browse hours through Sicilian or southern French recipes in which they are important ingredients. Arabs once brought the lemons to southern Italy, today they are typical of the fresh cuisine of southern Europe and the Magreb. As an ingredient to minced meat, they seem unusual to us at first. But once you have tasted these little treats you will make them again and again.
The two finely sliced lemons and the amount of minced meat make 20 delicious dumplings.
Ingredients:
600 g of minced meat (pork, beaf or mixed)
40 g of grated Parmesan
3 lemons: 2 thinly sliced, seeds removed - there should be 20 slices - zest and the juice of the third lemon
2 eggs: 1 egg for the dumplings, 1 egg for breading
2 teaspoons dried rosemary
Salt, pepper
Panco breadcrumbs
Olive oil
Preparation:
Briefly put the lemon slices in slightly salted, boiling water and then dry well on a plate with kitchen towels. Blanching takes the bitterness from the lemon pith.
Preheat oven including sheet-pan, 200 degrees / 180 degrees convection
Mix the minced meat well with lemon juice and zest, rosemary, salt, pepper and egg. Roll into 20 small dumplings, about the size of a walnut each. This works best with moistened hands or an ice-cream scoop. Immerse it again and again in a bowl of cold water, which helps to scoope out the portions.
Beat the second egg into a plate, put some breadcrumbs on another plate. Toss the meatballs first through the egg, then through the breadcrumbs.
Spread some olive oil on to the hot sheet-pan, add the dumplings and bake for 20 minutes. Then rotate them and place one of the blanched lemon slices under each one. Cook for another 15 minutes.
Enjoy!