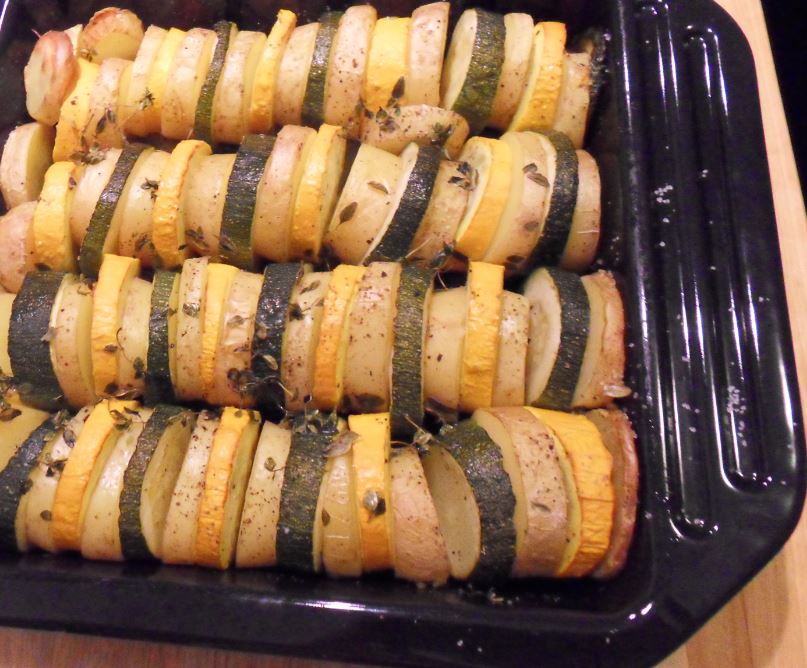 Tian de légumes is a typically Provençal dish with loads of fresh thyme, plenty of garlic and olive oil.
Some years ago, I was served a similar dish in France - not in the Provence, though. It was in a little bistro in Paris. I often try to cook and copy meals and dishes I discovered in special places or on vacation. Very often these experiments result in something completely different than I had imagined... But I could not go wrong with the gratin, the Parisian bistro chef had served.
This recipe always works with what ever vegetables are in season. My name for it is Gratin Paris. (But call it what you like, how about Ratatouille?). I use lemon thyme because I prefer its taste to that of thyme. Thyme or only salt and pepper will work just as well. The garlic can be multiplied to taste or omitted. Allowed is what you like or your pantry offers. Exception: Since the vegetables are in the oven for almost an hour, delicate leaves of herbs such as basil or parsley are no option, they would burn.
Size of the baking dish in the picture: 20 X 20 cm
The amount serves two or, as a side dish, up to four
Preheat the oven to 200 / 180 degrees fan
2 shallots
1 large yellow and 1 large green zucchini (courgette)
4 large or 6 smaller potatoes
2 cloves of garlic
6 - 8 stems of thyme or lemon thyme or other herbs
olive oil, at least 200 ml
salt, pepper
Brush the baking dish with olive oil and spread a crushed garlic clove on its bottom. Peel the shallots and cut lengthwise into strips, spread them into the dish.
Wash the vegetables and cut into 1 cm thick slices (I do not peel the potatoes, but you might want do.) Arrange the slices vertically in the dish, as narrow as possible.
Add salt and pepper; pluck the thyme leaves from the stems and spread all over and between the slices, add chopped garlic clove.
Pour plenty of olive oil over the rows of vegetables, then bake for 50 minutes.
Bon Appetit !
Leftovers:
Leftovers could be kept in the refrigerator for up to three days. Tian de légumes and Ratatouille is often eaten cold in France, which is great on a hot summer day!
I like leftovers for lunch just warmed up a little and pair them with Greek yoghurt, which I mix with a little lemon juice, olive oil and herbs that are just growing on my balcony. Prep tip: The evening before, put lemon juice, oil, a little salt and pepper in a jar with tightly closable lid, then the yoghurt and chopped herbs on top, close the jar. Store with the gratin leftovers in the fridge overnight and take it with you the next day. Mix the herbal yoghurt, warm the gratin and enjoy a great office lunch.